by Dr. Deviprasad Sharma (1.3.2018)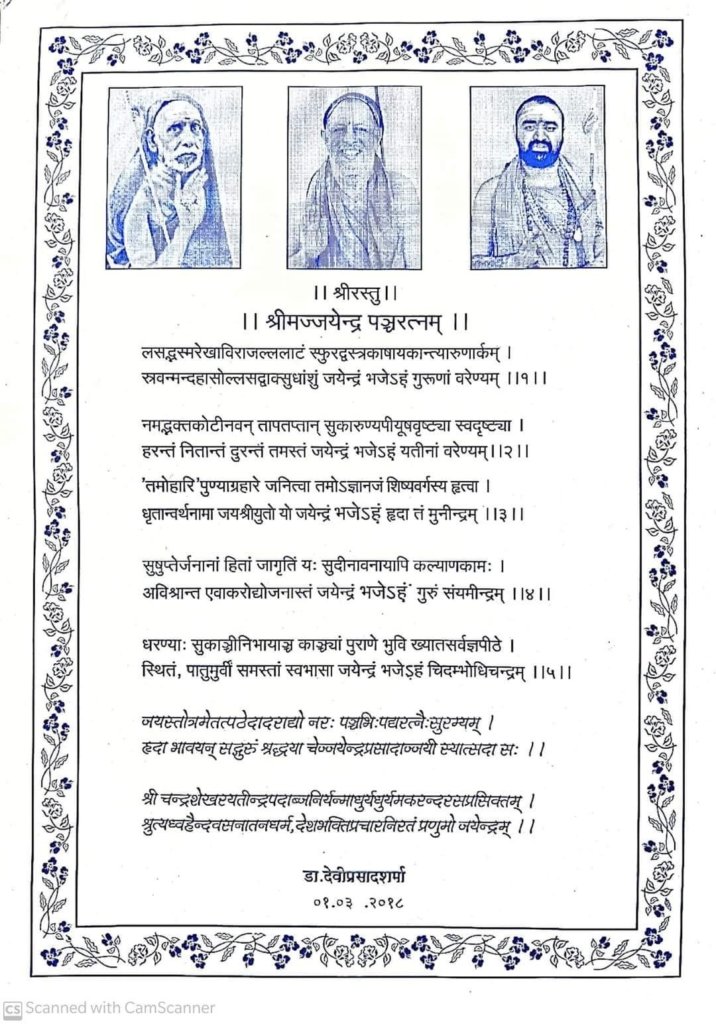 Shrimat Jayendra Pancharatnam
by Dr. Deviprasad Sharma (1.3.2018)
I worship Shri Jayendra, the best among Gurus, whose forehead shines with bhasma (vibhuti), who is radiant like the rising Sun with his saffron attire, and whose speech is tinged in nectar of Chandra with flowing gentle smile.
I worship Shri Jayendra, the best among Gurus, who protects, with his glance that showers nectar of compassion, devotees who are suffering from misery and who worship him, and removes completely their infinite darkness (misery).
I worship with my heart Shri Jayendra, the best among Munis, who, born in the sacred Agrahara of the village 'Tamohari' (Irulneekki), removes the Tamas (darkness) rooted in ignorance (Ajnana) of disciples; his name Jayendra truly conforms with its meaning and he is ever glorious with victory.
I worship Shri Jayendra, the Guru best among self-controlled, who tirelessly made plans for the protection of the afflicted, desiring their wellbeing and for creating awareness of what is salutary among those who sleep.
I worship Shri Jayendra, the moon for the ocean of Consciousness, who, being in the ancient Sarvajnapeetham in the land of Kanchi, verily the Kanchi (waistband) of the earth, protects all the earth with his radiance.
One, who reads, with respect and meditating on the Sadguru in his heart with faith, this Jayastotra, enchanting with five verse-jewels, will ever be victorious by the grace of Shri Jayendra.
We prostrate to Shri Jayendra, who is attached to the very sweet essence of honey, clinging to the lotus feet of Shri Chandrasekhara Yatindra, and who is deeply engaged in propagation of the Vedic way of Sanatana Dharma and patriotism.
Translated: P. R. Kannan