Times of India – 7 Aug. 2023, Varanasi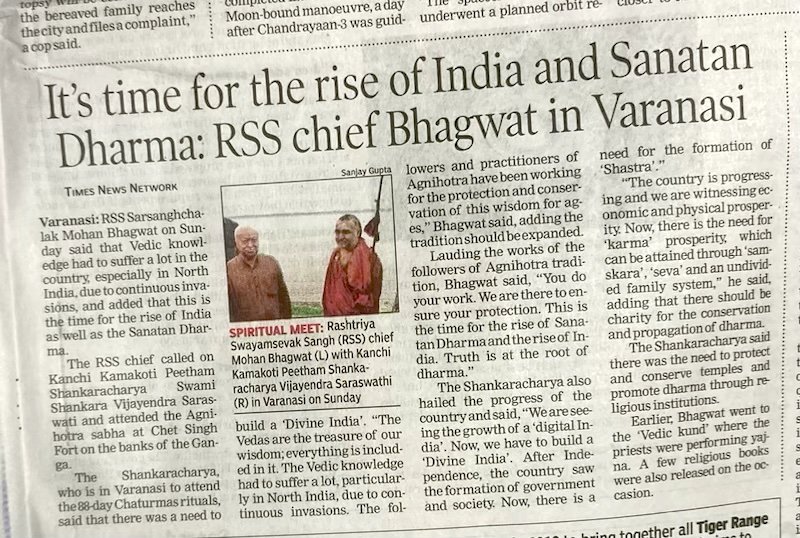 VARANASI: RSS Sarsanghchalak Mohan Bhagwat on Sunday said that Vedic knowledge had to suffer a lot in the country, especially in North India, due to continuous invasions and added that this is the time for the rise of India as well as the Sanatan Dharma.
The RSS chief called on Kanchi Kamakoti Peetham Shankaracharya Swami Shankara Vijayendra Saraswati and attended the Agnihotra sabha at Chet Singh Fort on the banks of the Ganga.
The Shankaracharya, who is in Varanasi to attend the 88-day Chaturmas rituals, said that there was a need to build a 'Divine India'.
https://imasdk.googleapis.com/js/core/bridge3.584.2_en.html#goog_931380025″The Vedas are the treasure of our wisdom; everything is included in it. The Vedic knowledge had to suffer a lot, particularly in North India, due to continuous invasions. The followers and practitioners of Agnihotra have been working for the protection and conservation of this wisdom for ages," Bhagwat said, adding that the tradition should be expanded further.
Lauding the works of the followers of Agnihotra tradition, Bhagwat said, "You do your work. We are there to ensure your protection. This is the time for the rise of Sanatan Dharma and the rise of India. Truth is at the root of dharma (religion)."
The Shankaracharya also hailed the progress of the country and said, "We are seeing the growth of a 'digital India'. Now, we have to build a 'Divine India'. After Independence, the country saw the formation of the government and the society. Now, there is a need for the formation of 'Shastra'."
"The country is progressing and we are witnessing economic and physical prosperity. Now, there is the need for 'karma' prosperity, which can be attained through 'samskara', 'seva' and an undivided family system," he said, adding that there should be charity for the conservation and propagation of dharma.
He said there was the need to protect and conserve temples and promote dharma through religious institutions.
Earlier, the RSS chief went to the 'Vedic kund' where the priests were performing yajna. A few religious books were also released on the occasion.
Source: https://timesofindia.indiatimes.com/city/varanasi/time-for-rise-of-india-sanatan-dharma-rss-chief/articleshow/102486235.cms?from=mdr#